Adding Outdoor Lighting for Your Summer Parties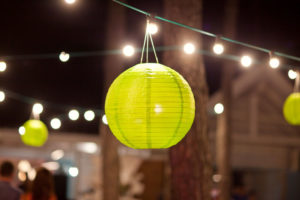 Summer is a time of celebration! Every warm evening with a late sunset is a good enough reason to stay outside and relax with a cool drink. Of course, summer is also the season of barbecues, graduation parties, swim parties, and so may other festive gatherings. If you want to make the most of your outdoor space this summer, whether just for yourself or for all of your guests as well, the right type of decorative outdoor lighting can transform the atmosphere of your backyard.
Patio Stringers Are the Secret to Great Outdoor Lighting
There are many lighting components that help to make your outdoor lighting landscape attractive and efficient. One of the most important yet frequently overlooked elements of outdoor lighting is the patio stringer. Patio stringers are stringers of exposed bulbs that give off a soft, retro glow of warm and welcoming light. In this way, patio stringers instantly create a comfortable and cozy atmosphere where people want to gather.
How to Choose Your Color
Patio string lights are connected by wire, so it is important to consider the color of the wire as well as the strength of the lights themselves. Patio stringer light wires are most commonly found in green, white, and black. Green is a great choice since it can easily blend in to natural backgrounds. White string light wire can be used strategically to provide a decorative touch, and black can be used as a neutral color that will not clash with multi-color light bulbs.
Get the Best Quality
It's true that you can purchase string lights from a big box store, but only commercial-grade stringers provide the wiring integrity and longevity that you want. Unlike cheaper retail products with a short lifespan, selecting commercial grade lights with the help of your outdoor lighting company will provide the durability and efficiency you want. Plus, commercial grade stringers are composed of heavy duty wire and special waterproof sockets.
Let a Professional Company Make Lighting Magic
When hung strategically and with a keen eye for design, a professional outdoor lighting company can transform your space into your own getaway or party place. Call (727) 418-4127 to benefit from the expertise of Decorating Elves, Tampa Bay's most professional outdoor lighting company. As the winners of the Best of Houzz 2016 award, Decorating Elves knows exactly how to make light work for and in your space.