Create Spooky Halloween Decor with Professional Lighting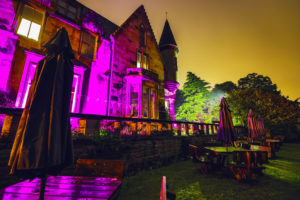 It's that time of year again! The temperature is dropping (well, sort of) and the smell of pumpkin spice lattes and bonfires fills the air. Before you start making Thanksgiving or Christmas plans, don't forget about the most fun and scary holiday of them all, Halloween!
Just because Decorating Elves started with Christmas light displays doesn't mean that we don't know a thing or two about the spooky, devilish decorations that make trick-or-treating so fun! Keep the neighborhood kids on their toes with black, orange, and purple lighting that bumps to your favorite Halloween beats ("Monster Mash", anyone?), terrifying zombies that pop out of nowhere, and evil witches ready to boil any passerby in their cauldrons. What could be more exciting than seeing the fear, followed by the joy, on trick-or-treater's faces when they step into your yard?
For die-hard Halloween lovers, there is no better time of year to decorate the front yard or even business. The possibilities for Halloween decorations are almost endless, and the expert lighting and decoration installation team at Decorating Elves are exactly what you need to take your outdoor Halloween display from just okay to blown away!
Don't believe that we can make your Halloween display the best on the block? Check out these past projects and doubt no more!
Need some help coming up with Halloween decoration inspiration this year? Here are some of our most popular themes:
Skeletons carrying coffin example.jpg
DE Halloween Left of Driveway.jpg
Jack-O-Lantern everywhere example.jpg
Hanging Pumpkins from Oak example.jpg
Spider house w webs example.jpg
Spiders on the House example.jpg
Tripod Culdron w jack-O-lantern example .jpg
Witches brooms Up examples.jpg
Pallet Cage Zombies example.jpg
Coffin Upright w large Jack-O-lantern.jpg
Creepy Dolls on house example.jpg
Mental Doll Skeleton example.jpg
Already have a Halloween theme in mind? We'd love to discuss how we can help turn that idea into reality with high quality, professional holiday lighting design and installation services. We love thinking outside of the box, so don't be afraid to hit us with your craziest ideas!
When you're ready to take your Halloween lighting and decor to the next level, call Tampa Bay's premier holiday lighting company, Decorating Elves. We've been brightening up the Bay for almost 20 years, with award-winning lighting displays that have received accolades nationwide. 
Don't settle for anything less than the best this year! Call us at (727) 474-2628 or contact us online for a quote today and be ready with the best decorations on the block when the witching hour begins!