The Finishing Touches: Using Wreaths, Garlands, and Bows in Your Outdoor Holiday Display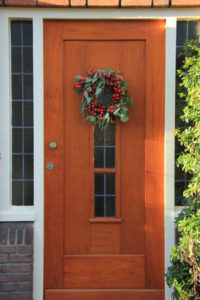 Now that Thanksgiving has passed and the frenzy of Black Friday has settled, it's time to shift your attention to your outdoor holiday display. Welcoming the holiday season with a beautiful, colorful, and cohesive arrangement is one of the most powerful steps you can take to set your home or business apart.
Top Your Trees in Style
Red bows are iconic signs of the holiday season, so using them strategically throughout your outdoor holiday display will enhance the appearance of your space. Red bows can be made or purchased in a variety of styles and sizes to adorn the top of your evergreen trees. Of course, bows also make great additions to wreaths and other holiday decor. Use them as focal points throughout your display to define space, add color, and bring good cheer.
Utilize All Vertical Door Space
What's better than one wreath on your front door? Three vertical wreaths making a statement at the entrance to your home or business. Select three festive wreaths and attach them to a sturdy red, green, or patterned ribbon that is thick enough to sustain their weight. Hang over the door like you normally would with a wreath holder, and you will instantly create a classy, enviable display of festivity. Wreaths can also be placed on either side of your front door or in other highly visible places like windows.
Make More Use of Lights
The best way to achieve a beautiful and awe-inspiring outdoor holiday display is to hire a professional lighting service to hang your holiday lights. The experts know exactly how to use different types of lights to emphasize the features of your outdoor area, create an atmosphere of winter cheer, and dazzle onlookers when the sun sets. You can use garland to make these lighting effects even more powerful. Garland is the perfect backdrop for holiday lights, especially across your porch, down columns, and around the front door.
You don't need to become a holiday decorating expert in order to create the best look for your home or business. Instead, turn to a trusted professional lighting company like Decorating Elves in Tampa, Florida to do the work for you. Decorating Elves is Tampa Bay's premier outdoor landscape lighting company, and the Decorating Elves team is committed to helping home and business owners throughout Tampa as they work to create impressive outdoor displays this holiday season. (727) 418-4127 now to get started!