Get Ready for Halloween with Professional Lighting Installation and Service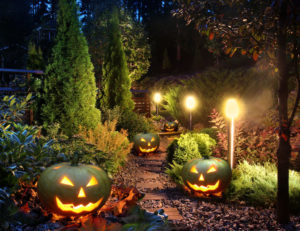 What is Halloween without the spooky decorations and ghoulish lights that bring this October holiday to life?
This season, rather than just buying pumpkins and grabbing a bag of candy, make the most of Halloween with a professional lighting installation that transforms your outdoor space into a dark and mysterious embodiment of the Halloween spirit.
Decorating Elves, Tampa's premier outdoor lighting company, specializes in Halloween lighting and decor to turn your yard into a ghoulish graveyard, chilling cemetary, or evil yard hunt. Give your neighbors something to talk about!
Create a Spooky Effect
The holiday lighting experts at Decorating Elves offer creative, attractive, and exciting ways to create a spectacular Halloween scene.
We can create an eerie electric forest in your yard by wrapping trees in purple, green, and orange LED string lights. For a truly spooky effect, we can also attach large spiders to the trunk of each tree and hang light balls from the branches.
Whether you want to use cobwebs, a thin layer of slithering mist, or props in the yard, there are many ways to make sure every visitor to your property enjoys the festivity.
Use the Best Lighting Effects
If you want to light up your yard for Halloween in a way that makes it unforgettable, it's best to let a professional handle the job. The right lighting techniques can help even an empty yard look haunted and spooky.
This is why the team at Decorating Elves uses shadows, color, flickering flames, strobes, and fog to achieve the best and scariest possible Halloween scene for your yard. We can transform your porch into a dungeon or your patio into a graveyard of spirits.
Call to Schedule Your Halloween Lighting Today
Impressive Halloween lighting and decor are just one phone call away. Call (727) 418-4127 today to schedule your appointment with Decorating Elves in Tampa, Florida. Our team of lighting experts have years of experience transforming yards into Halloween landscapes, and yours can be next.