A Guide to Using Outdoor Lighting Colors to Raise Awareness in September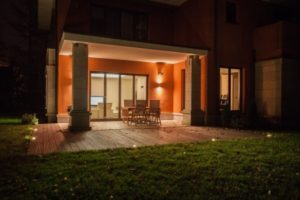 Color is an important design component, but it's also a powerful method of communication and expression. In addition to its purposeful use in everything from advertisements and television shows to art and clothing, color can also be utilized by lighting contractors to help their customers raise awareness for different charitable causes and public campaigns.
Many different campaigns have strategically organized themselves around a bold color for identification, such as red for Worlds AIDS Day and pink for Breast Cancer Awareness. The month of September hosts a variety of campaigns that also revolve around a carefully-chosen color. Business owners, managers of commercial spaces, and even residential homeowners can hire a professional landscape lighting company to create an outdoor lighting scheme that supports a specific campaign or cause. In fact, many organizations have raised significant awareness and money using this technique.
Go Orange For Hunger
Hunger Action Month is held every September to raise awareness about hunger and encourage people all over America to help fight hunger. The color orange is used to symbolize the community effort to support the millions of Americans who are struggling to make ends meet and put food on the table. Businesses and residential homes can support Hunger Action Month by lighting up their exteriors in hues of orange and dark amber. Different lenses, gels, and lamp changes can all achieve this effect.
Gold in September (G9)
When 11-year-old Annie Bartosz traveled around the country as her twin brother Jack received treatment for pediatric cancer, she developed National Childhood Cancer Awareness Month. Also known as G9, it raises awareness about childhood cancer and encourages people to take action to bring scientists closer to a cure. Just like "Go Orange for Hunger," businesses and homeowners alike can bathe their properties in hues of gold to support this mission.   
If you want to make the most of your own outdoor lighting this September by aligning yourself with the colors of a specific awareness campaign, call Decorating Elves in Tampa, Florida for professional help. The experts at Decorating Elves will use the most durable and attractive technology to achieve your color scheme and help you utilize color for a charitable cause. Call (727) 418-4127 today to learn more.