How Does a Lighting Expert Become a Certified Low Voltage Lighting Technician?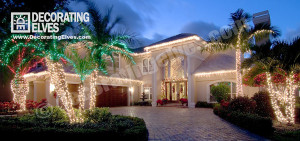 Creating an attractive outdoor lighting landscape is not nearly as simple as just installing a few light bulbs and exciting LED colors. In fact, designing, installing, and maintaining a jaw-dropping outdoor lighting landscape requires extensive talent and years of training.
That is why Decorating Elves, Tampa Bay's premier outdoor lighting company, is proud to be led by Nick Schriver, a Certified Low Voltage Lighting Technician with years of experience in the industry. Decorating Elves also has five technicians in the progress of becoming Certified Low Voltage Lighting Technicians.
The Association of Outdoor Lighting Professionals works to promote and advance the outdoor lighting industry by offering comprehensive certification programs for professionals. As the AOLP explains, "There are no clearly defined national standards for low voltage outdoor lighting. In most states, the test given to license low voltage contractors has little or nothing to do with the actual work that they perform. AOLP has created a standardized certification test to address the lack of standards that presently exist."
According to AOLP, contractors and technicians can take the Certified Low Voltage Lighting Technician exam to prove their knowledge and capabilities with 12-volt systems. This exam is rigorous and involves not just a written component but also seven half-hour labs. Of course, only passing grades earn contractors the title of being a Certified Low Voltage Lighting Technician.   
If you are preparing to install a beautiful, functional, and long-lasting outdoor lighting landscape around your home, be sure to hire a team of lighting experts like Decorating Elves who can use their certifications and years of experience to transform your front or backyard into a gently lit oasis.  
Call (727) 418-4127 to schedule a consultation with Decorating Elves today. The team at Decorating Elves services the entire Pinellas County region, including St. Petersburg, Clearwater, and beyond. Recently awarded the Best of Houzz 2016, Decorating Elves will help you make the very most of your outdoor space.