Making Plans for Stunning Outdoor Lighting Around Your Pool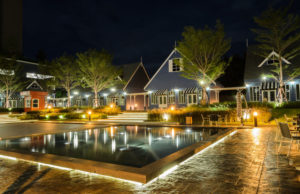 The term "lanai" sounds like a foreign term to many Americans, but as a Florida homeowner you are perfectly familiar with this Hawaiian word. A lanai is an outdoor patio or balcony that is built out from the back or side of the home in order to extend the living area and provide a comfortable and attractive place to spend a few hours relaxing or gathered with friends. In Florida, where mosquitoes are active nearly any time of year, most lanais are surrounded by a large screen enclosure that keeps unwanted bugs and debris away.
Even more popular than a lanai alone is a pool/lanai combination that provides the perfect blend between lounging and swimming. You can walk out of your back sliding door onto a patio that continues to extend into your outdoor pool area. Since the entire area is covered in a screen structure, you can always enjoy your space in total comfort.
But what about lighting? The sun sets late in Florida, but it still must go down! As soon as the sun disappears beyond the horizon, you need the right type of outdoor lighting to illuminate your lanai and pool. This not only enhances the appearance of your pool area but also helps it remain fully functional and accessible long after nightfall.
The LED Lighting Strip
A lighting strip is a long source of light that runs on a single power source. Most LED lighting of this type can only extend 15 or 20 feet, but that isn't enough to create the stunning lighting effects you want around your pool. Instead, you should use special LED strips that run a full 150 feet on a single power source without brightness loss. These lights can run across the top bars of your pool's screen structure to provide appealing overhead lighting in a way that blends seamlessly with your existing architecture.
Soft and Subtle "Daytime" Lighting
You want to set an atmosphere in your pool area after sunset, so the last thing you want are harsh, bright lights that make you feel like you're under a spotlight. With the right type of outdoor lighting, you can achieve soft and subtle illumination that provides the gentle light you need to enjoy your outdoor space at night. These captivating lights can be installed on each vertical bar around your screen structure, which makes a perfectly spaced lantern effect.
Of course, you need a professional team to help you select your outdoor lighting products, install everything with precision, and ensure it all works together flawlessly. Decorating Elves, Tampa Bay's most professional outdoor lighting company, is here to help! You can rely upon the team at Decorating Elves to transform your pool into an oasis after the sun sets. Just call (727) 418-4127 to learn more now.