Patio and Deck Lighting Techniques for Entertaining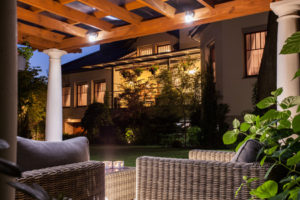 Summer is here, and with it come barbeques and get togethers of family and friends. When your deck becomes the hot spot of the summer, you want to make sure that you are prepared for constant entertaining. Patio and deck lighting can help keep you and your guests comfortable and safe so that you can enjoy the outdoors long into the night.
Railings and Steps
One of the permanent lighting techniques that we use for patios and decks is unobtrusive lights along deck rails and illuminating steps. This lighting is important for the safety of your family and guests. When you have lighting on the railings and steps it is much less likely that someone could become injured from tripping or stumbling in the dark. This is a must if you are planning on nighttime entertaining.
Mood Lighting
It is also a good idea to have some general lighting for your patio or deck so that you and your guests can see one another and interact more fully. Mood lighting is a great way to accomplish this without dispelling the magic of the night. You will want to make sure that your lighting is somewhat hidden into the décor of your patio or deck while still offering ample illumination. This softer lighting is perfect for most intimate get togethers.
Overhead Lighting
If you want to really be able to see well on your deck at night, for example to play cards or other games, you might want some brighter lighting that can be turned on and off independent from the mood lighting and lights on the railings and steps. This way you can have a softer light for intimate gatherings, but you can have brighter light for certain activities. Brighter lighting could be installed on your home overlooking your deck.
If you are interested in permanent lighting solutions for your deck or patio, contact us today for more information or to get started.