A Quick Guide to Outdoor Lighting for HOA Managers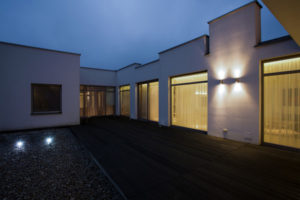 A Homeowners Association (HOA) is responsible for the appearance and upkeep of a community. This means that one of the many tasks of association managers is to arrange outdoor lighting that meets the needs of their communities. When done properly, outdoor lighting has the ability to transform dark and unattractive common areas into beautifully lit focal points.
This quick guide identifies the most important outdoor lighting considerations for association managers who are committed to improving their communities in a simple and affordable way.
Light the Front Entrance
Start at the beginning! Residents and visitors entering a community should feel warmly welcomed. This is the first impression of any neighborhood, so it plays an integral role in persuading potential residents to put your community on their short list. It will also help current residents feel more satisfied with their living experience.
Just remember, all lighting is not created equally! You don't want the lights that highlight your beautifully landscaped neighborhood sign and entryway to blind drivers like oncoming headlights. Use a tasteful combination of uplighting and downlighting for the best results.
Consider Common Areas
Every neighborhood is different, but it is likely that your community has certain common areas like a pool, playground, walking path, and clubhouse. For safety, security, and enjoyment purposes alike, those areas need lighting at night. Small lighting fixtures can be installed to gently yet effectively keep those areas lit at night.
A dark stairway, for example, can be resolved with LEDs installed on the riser of each step. Fountains, waterfalls, ponds, and other impressive features of your community can be illuminated with downlighting and other techniques that boast their beauty after the sun sets.
Choose LED As a Worthwhile Investment
It's no secret that the way we use electricity is evolving. From an affordability and environmental standpoint, LED lights are the best choice. LED lights use only a small fraction of electricity compared to halogen and incandescent bulbs – which means major savings for your HOA – while lasting years longer before needing to be replaced!
Though you are the expert of your HOA, nobody expects you to also be a landscape lighting expert! Turn to the seasoned professionals at Decorating Elves in Tampa, Florida to handle all your outdoor lighting needs. The team at Decorating Elves will transform even the darkest areas of your community into beautiful, softly lit focal points. Call (727) 418-4127 today to learn more!