The Difference Between Retail and Professional Christmas Lights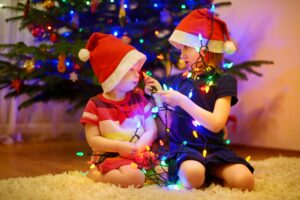 If you're serious about your Christmas lights, then you know that using quality lighting is one of the most important things you can do for a jaw-dropping scene. C9 LED bulbs are the standard for professional lighting installations due to their high quality and exceptional functionality. There are several benefits to using these commercial-grade Christmas lighting in your setup, including:
Versatility
One of the biggest differences between professional and retail Christmas bulbs is their versatility. C9 LEDs can be cut to the desired length and are interchangeable. Colors can be different from one bulb to the next and changed out with the seasons for homeowners or businesses who like to decorate year-round. There are no other lighting options that offer the versatility of these professional strands.
Color Quality
C9 LED professional bulbs have a much higher color quality and vibrancy than any retail bulb. In elaborate lighting scenes, small differences in colors can make a big difference in the overall effect achieved. Only professional-grade bulbs can achieve these color nuances.
Brightness
C9 LED bulb lighting is also brighter than lighting purchased at retail locations. C9 LEDs come standard with 5 diodes, making them five times brighter than retail bulbs with only one diode each. 
Durability
C9 LED bulb lighting is made to be used in all situations, so it's much more durable than retail lighting. In fact, the wiring in retail lighting is often just plated in copper, while high-quality C9 LEDs have an actual copper wire, making them much more conductive.
Christmas Lighting Installations in Tampa Bay
For Christmas lighting installations that combine art, design, and function, Decorating Elves should be your next call. We do residential and commercial holiday lighting installations that enhance any property and spread a little cheer. Give us a call at 727-474-2628 or contact us online to schedule an estimate for your holiday lighting project this year.