Ways Outdoor Lighting Can Bring Your Neighbors Together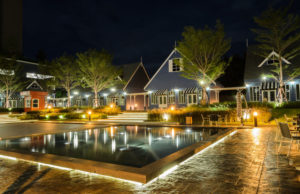 Feeling isolated? Missing the neighborhood summer block parties? Are the kids getting restless keeping to themselves? Social distancing is taking a toll on everyone, but there are some ways that you can get your neighbors together while still being responsible.
Patio Lighting
Patio lighting can make your patio look like daytime. This is a great place to sit and relax with neighbors after a long day of working from home. Get some nice furniture to spruce up your patio and have outdoor lighting installed so that you are always ready to entertain.
Watching the Game
Football season is coming up, and it looks like the season will be on even if fans aren't in attendance. You and your buddies are used to seeing the games together, but now isn't the time for Sunday football parties. Or is it? Temporarily move your big screen tv out in front of your garage, and your neighbors can space their chairs six feet apart on the driveway or paths. Outdoor lighting will keep you enjoying each other's company even after the sun is going down.
Social Distancing Block Party
Why can't you have a block party while social distancing? As long as each household stays six feet apart from every other household, you will all be safe. Each family can barbeque their own food, and you could hook up a good sound system for the block as normal. 
With an advanced set up, your outdoor lighting can change colors and be controlled by an app on your smartphone or tablet. This way you can give your block party or watch party a theme, such as the colors of your football team
If you are interested in learning more about how we can improve your life with outdoor lighting, contact us today.