What Is Your Outdoor Space Missing? A Sound System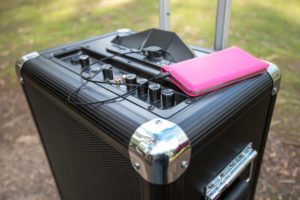 What elements create the perfect outdoor atmosphere? You might think of a screen to shield you from mosquitos, a pool to keep cool through Florida's heat, and beautiful accent lights to illuminate the night. But don't forget about a sound system!
Why Use a Sound System Outside?
A welcoming and enjoyable backyard ambiance isn't complete without the ability to fill your space with any music you choose. Whether it's upbeat music during a pool party or mellow acoustics as you relax watching the sunset, music can enhance every moment and memory.
However, that music doesn't have the same effect when it's coming from a cheap stereo or amp. You need a professionally installed sound system to provide a high quality sound and subtle appearance. Clever designs can keep your professional sound system hidden from view while the sound quality remains crystal clear.
How to Choose an Audio System That Improves Your Space
Not every outdoor audio system is built to stand the tests of time, weather, and outdoor elements. It's also true that only a few audio systems offer the range of benefits that homeowners deserve to enjoy. If you're looking for an audio system that enhances the ambience of your backyard, the Sonance SONARRAY SR1 System is your best choice.
The SONARRAY System is a highly acclaimed outdoor audio system featuring eight satellite speakers and a below-ground subwoofer. This combination makes it possible to envelop a full 2,000 square feet of space with beautifully balanced music of your choice.
In addition to the perfect sound quality, the SONARRAY is also designed to blend into your existing outdoor landscaping. Since the speakers are the color of natural earth tone and composed from composite material, they will look like a natural part of your landscaping without corroding or flaking over time. They can be easily camouflaged with plants as well.
Get Ready For Fall With A New Sound System
The fall season in Florida brings beautiful weather that you want to enjoy as much as possible. Adding a professional sound system into your outdoor area will help you make the most of your backyard all autumn and beyond.
Just be sure to turn to a local outdoor lighting and audio company for help with your professional sound system. Decorating Elves, Tampa's premier outdoor lighting company, is proud to offer SONARRAY as its recommended outdoor auto system. To order your system and have it installed without any hassle, call (727) 418-4127 to learn more and schedule a consultation with Decorating Elves.