Why It's Important to Get Started Early on Your Christmas Lighting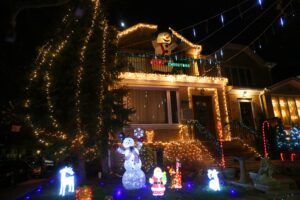 It's not even Halloween yet, but if you're already thinking about Christmas lights, you're not alone. Here at Decorating Elves, we're already preparing for the Christmas season, and you should be too! Here are our top reasons why you should start working on your Christmas light setups right now:
Boost Your Mood
The science is out…decorating for the holidays is a verified mood booster. People love bringing out all those Christmas collectibles and heirloom ornaments gathered over the years, reminiscing over past memories in twinkling candlelight. Or maybe you're into bright, colorful lights that blink along to a festive tune. No matter what makes you smile during the holidays, it's proven to bring you happiness and keep negative thoughts at bay.
Shaky Supply Chains
If there's anything the COVID-19 pandemic has taught us, it's not to depend on products being available if you wait until the last minute. Supply chains are still unstable, so if you have a special theme or style you're thinking of for your Christmas light setup, the time to start working on it is now, or you might not be able to get the lighting options you want.
Make Some Friends
A study in the Journal of Environmental Psychology long ago proved that people who put up outdoor Christmas decorations were seen as more sociable and approachable than people who do not. That friendly perception can help you integrate quickly into a new neighborhood or give off a welcoming vibe to newcomers in your neighborhood.
Christmas Lighting Installations in Tampa Bay
For both residential and commercial Christmas light installations, look no further than Decorating Elves. We've been lighting up Tampa Bay since 2003, bringing joy and cheer to every property we touch. If you're ready to start your Christmas light journey this year, call us at 727-474-2628 or contact us online.