Why You Should Hire a Professional to Hang Bistro Lighting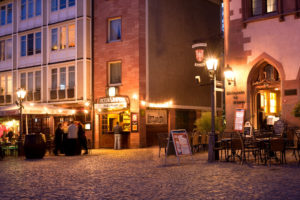 Bistro lighting is all the rage right now in both residential and commercial settings. While restaurants have been using this lighting technique for years to enhance their outdoor spaces, it has just recently become popular in backyards. The rise in popularity of LED lighting, combined with its low cost and energy efficiency, has made more and more lighting techniques available to the everyday homeowner, including bistro lights.
DIY vs. Professional Installation
Yes, you can definitely run down to a nearby big box store and grab a box of bistro lights to hang yourself. Who knows? Maybe you'll get lucky and get a high-quality brand with lots of features that you just happen to hang up in the perfect spot the first time. But most likely, you'll end up with a no-name brand with minimal features that looks like it was thrown up into some tree branches instead of expertly placed.
That's where Decorating Elves in Tampa comes in. We've hung bistro lights in just about every place possible, so we know all the tricks to make them look effortlessly classy. So no matter if you want them strung under your pergola, between two trees, or stretching across your entire yard, we've got you covered. Trust Decorating Elves to hang your bistro lighting and you'll get:
Expert Design
Bistro lights might look like they're casually placed, but in reality, they take extreme care and planning to hang correctly. We know what factors to consider when hanging bistro lights so they give the ambiance you want without looking like a tangled mess.
Best Quality
We only use lighting equipment made by the highest-quality manufacturers with the best warranties in the industry. Anything less doesn't meet our strict quality requirements and is not good enough for your home.
Tons of Features
Remote control? Check. Dimmer switch? Check. Scheduled on/off? Check. Any color you can think of? Check.
Our bistro lights come with all the bells and whistles to take your outdoor lighting to the next level. Easily set the mood no matter what the occasion, from summer evening parties to a romantic dinner for two, and everything in between!
Installation Meant to Last
It's not enough to just consider where to hang your bistro lights…you also need to think about how you're going to hang them. Here in central Florida, hurricane season can bring with it some pretty fierce winds, and your lighting setup needs to be strong enough to stand strong during extreme weather. That's why we hang bistro lighting to last with heavy-duty mounts and deeply-anchored poles so they're not going anywhere.
Code Compliance
Some locations have laws and rules to govern the placement and usage of outdoor lighting, especially if you live in a neighborhood controlled by an HOA. At Decorating Elves, we investigate all relevant regulations beforehand to be sure your new lighting setup is 100% legal.
Add Bistro Lights to Your Backyard
Ready to enhance your home's nighttime curb appeal? Bistro lights are perfectly understated and add glam to your home's exterior without being too flashy. Decorating Elves professionally installs bistro lighting for homes and businesses all over Tampa Bay, and we'd love to help you with your project! Call us at 727-474-2628 or request a quote online today!