Staying Safe is a Top Priority at Decorating Elves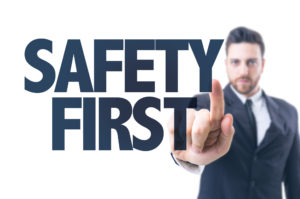 When you're planning to add outdoor or holiday lighting to your property, you want to be sure that the contractor you choose is experienced, reputable, and safe. The last thing you want is an accident on your property due to poor safety measures by an inexperienced contractor. Not only will this add time and cost to your outdoor lighting project, but it can also lead to serious financial implications if the contractor is not properly licensed or insured!
Make Sure That Your Contractor is Licensed
The inherent danger and high level of skill required in some trades, such as electrical work, has prompted the state of Florida to require that all contractors practicing those trades be licensed. Licensing is one of the most important factors to consider when choosing a contractor. Licensure involves proving through an examination that the contractor knows all of the laws, regulations, and best practices related to electrical work. Those who pass the examination and meet all of the other requirements are awarded a Certified Electrical or Specialty Electrical license. Only those who possess a license are allowed to do electrical work in the state of Florida. There are steep fines and penalties for practicing electrical work in Florida without a license.
Nick Schriver, owner, and CEO of Decorating Elves in Clearwater is a Certified Specialty Contractor in the state of Florida (License # ES12000805).
Nick has continuously maintained this designation and takes pride in his reputation as an electrical contracting expert in the Tampa Bay area. Nick also employs other licensed contractors to head teams installing residential and commercial outdoor landscape and architecture lighting, outdoor audio, and holiday lighting all up and down the Gulf coast. 
In addition to being licensed by the state, Nick is also the only Certified Low Voltage Lighting Technician (CLVLT) in Tampa Bay.
Low voltage lighting is ideal for outdoor purposes, as it offers many benefits over higher voltage options. However, the Association of Outdoor Lighting Professionals (AOLP) noticed a gap between the knowledge that is actually required to expertly install low voltage lighting systems and the content on most state-required contractor exams. To fill this gap, the AOLP designed its own curriculum and examination for outdoor lighting professionals, covering every aspect of designing, installing,  and maintaining low voltage lighting systems. They also offer other courses for outdoor lighting contractors to expand their knowledge base. Nick voluntarily completed the CLVLT course and exam and encourages anyone pursuing a career in outdoor lighting to take advantage of the plethora of knowledge and networking offered by the AOLP. He is such a fan of their mission and work that he sits on their Board of Directors and Communications/Marketing Committee.
Safe, Yet Beautiful Outdoor Lighting in Tampa Bay
Your home and lawn are some of your biggest assets, so don't trust their appearance to cut-throat, unlicensed contractors. Instead, go with the company that has received nationwide accolades for their spectacular and breathtaking work – Decorating Elves in Clearwater. Call (727) 474-2628 or contact us online to schedule your outdoor lighting project consultation today!