How Do I Decide How Much Outdoor Lighting I Need for My Business?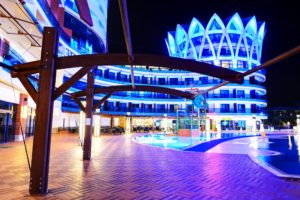 Outdoor lighting is an important yet frequently forgotten element of any brick-and-mortar business. If your potential customers don't feel safe approaching your business, then they'll probably go to another business where they do feel safe instead.
Benefits of Outdoor Lighting for Your Business
There are many benefits to outdoor lighting for your business, including:
Boosts curb appeal – The right outdoor lighting can make your business look more inviting, professional, and approachable.

Improves safety – Customers need a clear, well-lit path to use when approaching your business. This is especially true for customers with disabilities. Strategically placed outdoor lighting can prevent accidents and reduce your liability.

Deters crime – Well-lit businesses experience less crime. This is because criminals are less likely to target a business that they can easily be seen approaching.
Outdoor Lighting Factors for Businesses to Consider
Property Size
The size of your business property will play a role in how much outdoor lighting you'll need. A large property will obviously need more outdoor lighting units than a small one to cover the entire area.
Existing Lighting in the Area
If the area where your business is located is already well lit, you'll probably need fewer lighting units yourself to cover the difference. On the flip side, areas with less public lighting will require more on-site lighting units to be effective.
Crime in the Area
If you're concerned about crime, then you'll want to make sure your outdoor lighting is adequate enough to deter criminals. This means having outdoor lighting that's bright enough to show clear images of anyone approaching the property on security cameras.
Budget
The budget is arguably the most important factor to consider. No matter how strategic your outdoor lighting plan is, if you can't afford it, it doesn't matter. Make sure your outdoor lighting contractor understands your budget limits and still creates a lighting plan that doesn't sacrifice safety. Also, don't forget to budget for routine maintenance!
Outdoor Lighting for Tampa Bay Businesses
For the best lighting contractor in Tampa Bay, look no further than the expert team at Decorating Elves. We'll listen to your ideas and restraints to customize an outdoor lighting plan for your business that covers all the bases. Call us at 727-474-2628 to schedule an estimate for your business' outdoor lighting needs today!