Commercial Outdoor Lighting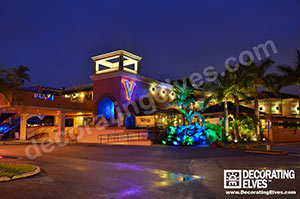 Commercial outdoor lighting enhances visibility on many small and large business properties alike. The use of architectural lighting to enhance and illuminate the building and structure along with professional landscape lighting to magnify the property is the perfect combination of lighting for all businesses. By Illuminating the property you increase its visibility and make it stand out at night. In addition, night lighting increases security and safety for the building and its visitors.
Commercial Outdoor Lighting Techniques
Restaurants, Hotels & Resorts, Retail Stores, Apartment Buildings, Playgrounds,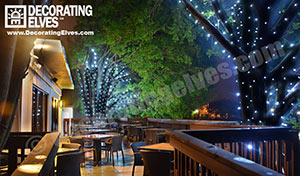 In addition to businesses, common commercial applications are:
Subdivision entrances, clubhouses, and walkways
Pools, ponds and other water features
Municipalities, public facilities and parks
Apartments, townhomes and condos
Sports courts and playgrounds
All types of commercial properties
Our Design Team is A Cut Above the Rest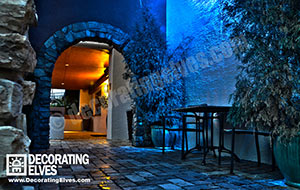 Anchored by our Certified Outdoor Lighting Designer – Nick Schriver, CLVLT, COLD YR2, who is a graduate of Architecture at The Ohio State University, has being doing outdoor and landscape lighting Design / Build for almost a decade. He has completed some of the most talked about and highly visible projects in the Tampa Bay Area … everything from Restaurants and Clubs to Condos and Luxury Residential.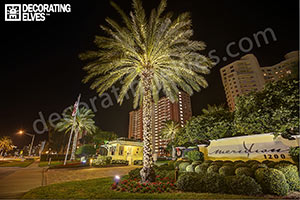 Decorating Elves continues to train its staff and strives to be the best in this industry!
Outdoor Lighting by Decorating Elves is a full service lighting and décor company that provides complimentary lighting consultations to all customers. You will be amazed with our passion for illumination and great array of products and brands available for any setting. Please contact us today for your consultation.
Commercial Lighting Consultation
Call 727-474-2628 or 1-800-MY-LITES or click to schedule your consultation today.