Residential Outdoor Lighting
Create the Resort-Style look & feel your property deserves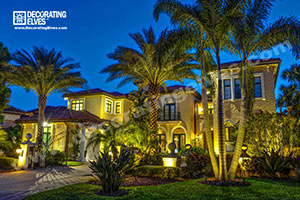 Residential outdoor landscape lighting offers the time-starved homeowner the ability to enjoy their property and landscape well into the late evening hours when they are most often home. In addition it enhances the property value with added security and safety by eliminating dark hidden areas, and detours mischievous activity.
The professionals at Decorating Elves have been working hard to help their customers showcase the beauty of their homes. We have developed a unique design system to communicate illumination with you, the client. Our designers spend time with you during our consultation to listen to what you want and provided the right suggestions and products for your home. This is done to get the most out of your residential lighting system and showcase your home.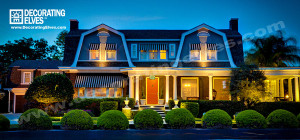 We have residential lighting jobs ranging from several light fixtures to hundreds of light fixtures. We have truly mastered the craft of the right amount of light for each client and home. We pride ourselves in being versatile and creative with providing solutions for any challenge. One thing that helps us achieve this is our vast array of brands and products available to use. Because we have great relationships with the best manufacturers in the industry, we are always guaranteed to get the best product available for the budget and application.
Outdoor Lighting by Decorating Elves is a full service lighting and décor company that provides complimentary lighting consultations to all customers. You will be amazed with our passion for illumination and great array of products and brands available for any setting. Please contact us today for your consultation.
Our Design Team is a Cut Above the Rest
Anchored by our Certified Outdoor Lighting Designer – Nick Schriver, CLVLT, COLD YR2, who is a graduate of Architecture at The Ohio State University, has being doing outdoor and landscape lighting Design / Build for almost a decade. He has completed some of the most talked about and highly visible projects in the Tampa Bay Area … everything from Restaurant and Clubs to Condos and Luxury Residential.
Decorating Elves continues to train its staff and strives to be the best in this industry!
Types of Techniques of Outdoor Landscape Lighting
Residential Lighting Consultation
Call 727-474-2628 or 1-800-MY-LITES or click to schedule your consultation today.