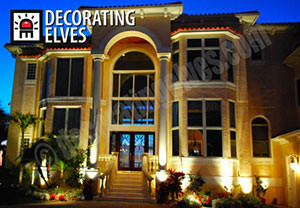 Architectural outdoor lighting is used to illuminate unique elements of your home or professional building. It focuses on highlighting materials, architectural style, decorative elements, and beautification of functional building elements including entryways, arches, columns, textured facade, and other structural features.
Architectural lighting will greatly elevate the aesthetic elements of any building or home. Outdoor lighting will also enhance the appearance of statues, gazebos, sculptures, fountains, waterfalls, and flagpoles, bringing them to life in a completely new light and
style with architectural lighting.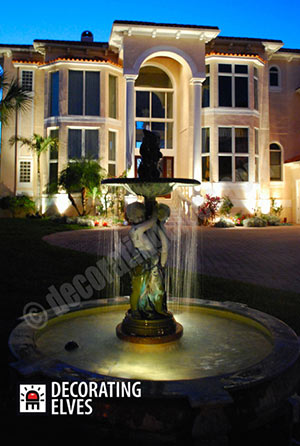 Architectural lighting is used in many settings likeretail, commercial manufacturing andshipping, hospitality, liturgical, corporate, andresidential arenas. For large homes and commercial applications such as storefronts and office buildings, it is best to create an effect of uplighting called a facade of light that transforms an otherwise plain surface into an illuminated surface of light and color. The key is positioning the right light fixtures in a low profile position where optimal angles create the illusion of light radiating from the surface of the building. This is a soft illumination and is found to enhance the structural beauty of churches, art galleries, and historical buildings with superior architecture. Custom homeowners also prefer this form of architectural outdoor lighting because it discreetly and politely distinguishes their homes from surrounding houses.
Outdoor architectural lighting assists with safety and security features that make buildings more attractive, well-protected, and safer to employees and customers on location at night. A well-lit building deters criminal activity much more effectively than an unlit building on a dark street. Furthermore, specific elements of architectural outdoor lighting also add additional safety to homes and buildings by lighting surrounding properties. Step lights prevent individuals from tripping over dark stairwells, and path lights pinpoint the locations of walkways and provide a well-lit path with minimal hazard. Architectural outdoor lighting reduces liability for businesses and brings additional comfort and a sense of accommodation to residential guests.

Architectural lighting design, much like architecture itself, qualifies as being neither an art nor a science, rather a mixture of both. While creative spirit is demanded of a designer, a qualified professional architectural lighting designer will generally have a good understanding of the properties of light from a scientific standpoint and of the functioning of a light fitting
(known as a "luminaire" in field terminology).
Architectural Lighting Consultation
Call 727-474-2628 or 1-800-MY-LITES or click to schedule your consultation today.