Lighting that is attached or fixed to a deck or outdoor structure to establish illumination. Deck & Dock style lighting incorporates illuminating the rails and edge of the deck but also the sitting surfaces and walkways. A well-lighted deck or dock will be the next backyard hit.
Deck lighting is one of the most important functions of outdoor landscape lighting.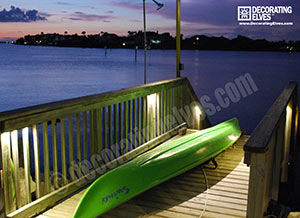 Through deck or patio lighting, visitors are able to safely navigate from point A to point B within your landscape and outdoor living area. All obstacles are made visible with these small unobtrusive lights.
Deck Lighting Consultation
Call 727-474-2628 or 1-800-MY-LITES or click to schedule your consultation today.