How Often Does Outdoor Lighting Need to be Maintained?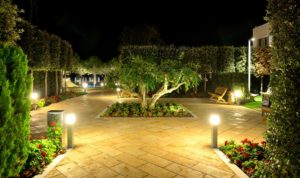 The optimal functioning of your outdoor lighting is essential. It doesn't matter how attractive your lighting setup is if no one can see it! For optimal functioning, routine maintenance on your outdoor lighting fixtures, bulbs, wiring, and more is required.
Perform Routine Maintenance Twice Each Year
Outdoor lighting must be inspected at least twice each year. Any damage or malfunctions must be repaired immediately. Delaying repair will likely cause more damage, costing even more to correct. We always recommend using a licensed, reputable lighting contractor for routine maintenance on outdoor lighting. This is especially true if your system has any exposed wiring or significant damage.
Outdoor Lighting Routine Maintenance Checklist
Routine maintenance inspections on outdoor lighting should include, at a minimum, the following:
Complete clean of all bulbs, lenses, and fixtures

Check for damage

Replace faulty bulbs

Reposition fixtures as needed

Inspect all wiring

Adjust timers
Routine Maintenance is the Perfect Time for Upgrades
Since your lighting contractor will have their hands on every part of your outdoor lighting system during routine maintenance, it is the perfect time to install upgrades. Some of our favorite outdoor lighting upgrades include replacing older bulbs with LEDs, adding pathway lighting, and updating security lighting.
Outdoor Lighting + Audio – A Match Made in Heaven
Another upgrade we highly recommend installing during your next routine maintenance appointment is outdoor audio. You will wonder how you ever lived without it once you realize how easy it is to turn your outdoor spaces into functional and fun living and entertainment spaces. 
Outdoor Lighting Maintenance in Tampa Bay
If you live in Tampa Bay and need a competent contractor to perform routine maintenance on your outdoor lighting, contact Decorating Elves at 727-474-2628. We offer outdoor lighting design, installation, setup, maintenance, and repair for both residential and commercial customers.