Update Your Lanai with Outdoor Lighting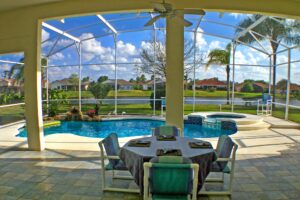 Lanais are everywhere you look in central Florida these days. With our subtropical climate, a screened lanai is a perfect way to maximize your outdoor space and enjoy the "buggier" months of the year. While the basic lanai structure is great on its own, we can make it even better with a beautiful, professionally installed outdoor lighting setup. In this post, we'll talk about exactly what a lanai is and how Decorating Elves can take yours to the next level.
What is a Lanai?
In the simplest of terms, a lanai is just the Hawaiian term for a covered outdoor space, very similar to what we might call a porch or veranda here on the mainland. However, lanais offer more versatility in design than the traditional porch. Lanais can be screened or even have walls, are covered, and usually sit just outside a back entrance to the residence. If a lanai is walled in, it is usually only on 2-3 sides, leaving one side completely open or screened. Most lanais have a hard floor such as concrete or wood and are not elevated. Lanais can vary in size and style.
Here in Florida, you are definitely going to want a screened lanai at a minimum, since little critters have a tendency to invade any open outdoor space they can get into during the warmer months. 
Outdoor Lighting for Lanais
Outdoor living spaces are great during the day, but with the right outdoor lighting setup, they really come to life at night. Fun nights with family and friends can't happen in the dark, so you'll want to make sure your lanai is properly illuminated so that you can enjoy every inch of it. Here at Decorating Elves in Tampa Bay, we have an entire toolkit of lighting styles and techniques that will make your lanai gorgeous, safe, and the perfect place to entertain or relax. Down lighting is a popular technique in lanais so that the space is illuminated without taking away from any view outside. We also offer security lighting for lanais to increase nighttime home protection.
Bonus Points: Add Outdoor Audio
Now that your lanai is properly illuminated, you'll want a little music out there to set the mood, right? We also offer high-quality outdoor audio systems professionally installed by our team to enhance your outdoor areas. Just put on a nice bubbling brook track for yoga practice, some old rock and roll hits for hanging out with friends, or something a little more romantic for date night. Our outdoor audio systems put you in total control of your outdoor sound experience.
Outdoor Lighting and Audio Systems Maintenance
Along with our high-quality systems, expert installation, and friendly customer service, we also offer system maintenance services to keep your outdoor lighting or audio systems in the best condition possible. From routine maintenance to repairs, we provide all the services you need to keep your lighting and audio systems working perfectly.
The Best Outdoor Lighting Contractors in Tampa Bay
Whether you already have a lanai or are making plans to install one, Decorating Elves offers the extra features that will take your lanai from dark and uninviting to the talk of the neighborhood. Give us a call at 727-474-2628 or contact us online to schedule your project's estimate today.