Great Ways to Add Outdoor Lighting This Spring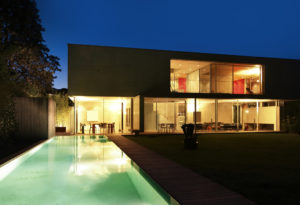 Now that winter is finally fading away, get ready to be outside again with beautiful outdoor lighting for your home and business! 
Why add outdoor lights to your home and business?
Outdoor lighting is a great way to extend your day during early spring and late fall when temperatures are pleasant but the sun sets early. Whether it's to extend your business hours or just enjoy your home's patio later into the night, outdoor lighting helps you maximize the use of your property.

Outdoor lighting adds an extra layer of security to your property's existing crime-prevention plan. Keep your friends, family, visitors, and customers safe by illuminating walkways and entryways while also limiting your liability if there is an accident.

Outdoor lighting adds value to any property by boosting its curb appeal and helping you stand out amongst the competition. The attention to detail and design will not go unnoticed by potential buyers and will be reflected in your final sale price.
Popular Outdoor Lighting Techniques
We offer a wide variety of outdoor lighting techniques to make your dream vision of your property a reality. Some of our most popular outdoor lighting techniques include:
Mimics natural lighting by placing the light source above.
Narrowly angles light from the floor or ceiling onto a wall to highlight with shadows.
A form of subtle down lighting where dimmer light is projected downward, mimicking natural moonlight.
Casting the shadow of a large feature onto a wall by a ground-mounted light source. Commonly done with trees, water features, or other large architectural structures.
Essentially the opposite of shadowing, silhouetting involves placing a light in front of a wall directed at the featured object, creating a beautiful backlit projection that brings depth and interest to any yard.
Spot lighting simply involves placing a direct, bright light on a featured object to accentuate it.
Up lighting is by far the most popular lighting technique we use in Tampa Bay to illuminate palms and landscape features. Up lighting creates a dramatic effect by lighting the object up from below. 
Wall washing uses a bright light source at a wide-angle, typically hung from the ceiling, to light up part of a wall.
Add Outdoor Lighting to Your Tampa Bay Property This Spring
Decorating Elves has years of experience making Tampa Bay properties look their best. Call us at (727) 474-2628 or contact us online for an estimate on turning your home or business' exterior into the envy of your neighborhood with professionally designed and installed outdoor lighting solutions.