8 Fall Landscape Lighting Ideas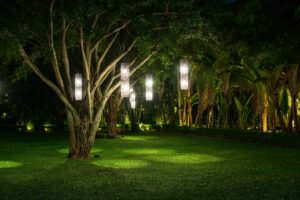 With fall approaching comes the promise of (slightly) lower temperatures and plenty of outdoor entertainment opportunities, making it a perfect time to change up your landscape lighting design. In this post, we'll go over our top 8 ideas for a fall landscape lighting makeover and touch on routine maintenance needs in the fall.
1. Get Thematic
Fall offers several occasions to jazz up your lawn. Halloween and Thanksgiving are the two most notable holidays, but Veterans Day and even Oktoberfest also give some unique chances to decorate and show off your holiday flair.
2. Change the Color Palette
Swap out those blues and greens for some warmer tones, like yellows, oranges, and deep reds in your general landscaping scheme. This could include window treatments or furniture covers in outdoor spaces, garden globes, water features, and more. Take it to the next level by adjusting the LED colors on your outdoor landscape lighting system to more autumnal shades.
3. Focus on the Fire
The fire pit becomes the star of the show during fall, so why not play it up with some strategically placed landscape lighting? Whether it's down lighting around a stone fire pit to illuminate without overwhelming or silhouetting to accent it from behind, Decorating Elves has all the lighting skills to turn your fire feature into a beautiful focal point.
4. Light Up Your Walk
Pathway and stairway lighting is important for safety reasons, but it also just looks great. Fall is the perfect time to add these lights since the days shorten and there is less evening sunlight, so walkway lighting will extend the usability of your outdoor spaces. Another awesome walkway lighting feature we offer is paver lighting, which incorporates the lights into the actual walkway pavers. We can now do color-changing LED pathways, paver, and stairway lights, so they fit seamlessly into your overall design theme.
5. Turn Up the Contrast
Landscape lighting is a great way to accentuate your landscape features, and one technique known as up lighting does the job well. Up lighting casts shadows along with giving off light, providing a contrasting highlighting effect that catches attention and awe.
6. String 'Em Up
A nice complement to the pathway and stairway lighting is LED string lights to illuminate from above. Not only will this make walkways safer, but it will also add a romantic, picture-worthy glow. String lights come in all shapes, sizes, and color-changing capabilities.
7. Aim to Sustain
It's always a good time to talk about conserving energy, and fall offers an opportunity to make your outdoor landscape lighting more sustainable by adding solar power sources or switching to a low voltage system. Not only are these better for the environment, but they can also be better for your wallet. Installing these systems during the fall will give you time to tune them in just right before the intense summer sun makes its debut.
8. Don't Forget to Maintain
As fall fades into winter, we'll spend less time outdoors, so it's the perfect time to do routine landscape lighting maintenance. Decorating Elves offers this as a service for residents and businesses in Tampa Bay, which includes cleaning, repairing, and readjusting your lighting system to get it back to optimal performance.
The Best Outdoor Lighting Contractor in Tampa Bay
If you're ready to change up your landscape lighting this fall, call the experts at Decorating Elves to help you with everything from design to installation to maintenance. As a full-service outdoor lighting contractor, we'll turn your lawn into a show-stopping design that has all the neighbors talking. Call us at 727-474-2628 or contact us online to schedule your fall project estimate today.