Holiday Lighting For Retail Stores: A Guide of Tips and Tricks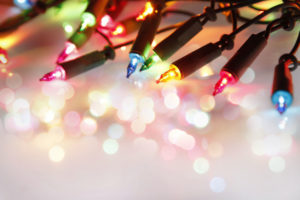 Huge sales and deals aren't the only tools your retail location should be using to attract shoppers this holiday season. Holiday lighting is a powerful visual strategy that should be incorporated into any holiday marketing plan! Use these simple tips and tricks to make sure that holiday lighting becomes an asset, not a headache, for your business this season.
Create Magic
The holiday seasons is all about winter magic. As customers approach your store, they want to feel surrounded by the spirit of the holidays. The lighting that you use should create a unique experience that helps visitors escape reality and embark on an adventure of browsing and selecting the goods and gifts they need to buy.
You can effectively create this type of winter wonderland magic by adding themed lighting on the interior and exterior of your store. Exterior lights help your store stand out from others and grab the attention of shoppers that might not have otherwise planned to walk inside. Interior lights enhance the experience of your shoppers- strings of lights overhead, candle lights in the windows, and other displays can all contribute to the atmosphere you want to create.
Include Colors
What is holiday lighting without colors? Whether you use the traditional green and red, a modern blue and white, or any other creative arrangement you prefer, colors can transform the appearance of your store and give shoppers a new and exciting experience. Color influence mood, and the right mood improves your store's bottom line!
Get the Professionals Involved
You have countless responsibilities already, so planning and installing the perfect holiday lights might not be a task you enjoy. This is why it's so helpful to work with a professional team of lighting designers and installers.
Decorating Elves, Tampa's premier holiday lighting company, offers and range of services to help retail locations make the most of themed LED lighting:
Full lighting and music animation
Rooftops, roof lines, gutter lines
Outline windows, doorways, walls, driveways
Shrubs, trees, bushes, palm trees, plants
Garland, wreaths, bows
Large palm trees, colored fronds, and trunks wrapped
Candy cane tree trunks and pillars
Themed displays and layouts
If you haven't already scheduled your holiday lighting installation, now is the time to make your appointment and make sure your retail store shines- literally- for the holiday shopping season. Call (727) 418-4127 to make an appointment with Decorating Elves now.