Improve Your Home's Safety and Security with Outdoor Lighting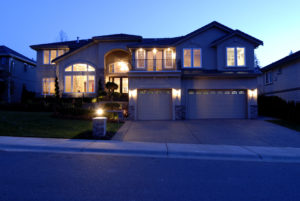 Outdoor lighting gives your home an elegant, tasteful appearance that the entire neighborhood will notice. Nothing can boost your nighttime curb appeal quite like a strategically placed lighting system. However, those outdoor lights actually serve an even more important purpose – enhancing your home's safety and security.
A Well-Lit Home is a Safe Home
Outdoor falls are a serious problem. About half of the falls senior citizens experience are outdoors and can have devastating results, including fear of walking again, loss of basic functions, and increased risk of nursing home placement. Pair this with the impaired vision many elderly people live with, and you've got a recipe for disaster in a poorly-lit area.
Safety isn't just important for the elderly. If you do any nighttime outdoor entertaining, you want to make sure your guests are safe and comfortable as they navigate your outdoor spaces. Illuminating borders and pathways to restrooms are essential for the perfect patio party.
By adding outdoor lighting to your home's walkways and entryways and maintaining these areas properly, you're adding an extra layer of safety to your home's exterior that can protect you and your loved ones. A well-lit exterior can also prevent a visitor from falling and injuring themselves, avoiding a sizable claim against your homeowner's insurance.
Divert Crime Away with a Well-Lit Exterior
It's no secret that criminals prefer to commit their crimes under the shroud of darkness. If given the opportunity to break into a dark, poorly-lit home or a bright, well-lit property, which one do you think the burglar is most likely to choose? You can create a shield of protection with an expertly designed outdoor lighting setup.
Premier Outdoor Lighting Design in Tampa Bay
Are you ready to step your home's exterior up to the next level? Our talented designers will help you create a beautifully-lit home exterior you can rely on to keep your loved ones safe and sound. Call Decorating Elves at 727-474-2628 to schedule your consultation for your outdoor lighting project today!