It's Never Too Early to Start Thinking About Holiday Lights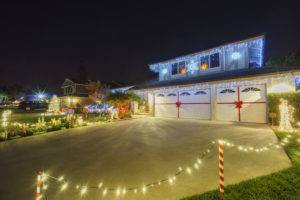 Do you live in a beautiful neighborhood that loves to tastefully decorate for the holidays? If so, it is never too early to start thinking about your holiday lights for the year. You have some options for outdoor lighting, and you should allow yourself time to make those decisions. In addition, you want to make sure you get on the schedule as soon as possible, before our installers are booked up. Here are some things to think about now.
What types of lights do you want?
You have so many options when it comes to outdoor lighting these days, and those choices go beyond choosing light colors or blinking patterns. Some questions you should be asking yourself include:
Do you want to be able to change the color of your lights on a whim?

Do you want to be able to program your lights to turn on and off automatically?

Do you want your lights to stay up year round, or do you want them taken down every year? If so, why?
The answers to these questions are important for making sure you get the right holiday lighting solution for you.
What about installation of holiday lights?
It really is amazing how many people leave their Christmas lights on their home year-round, just because they don't want to deal with the hassle or expense of taking them down. With holiday lights designed only for seasonal use, leaving them up year-round can look tacky and could cause damage. 
You do have a way to get around this. Our outdoor lighting options can be installed and left on your home year-round. Since the lights we use were designed for this purpose, they won't stick out when not in use. The lights are also able to stand up to the weather.
Book now to avoid delays.
Have you decided to have permanent holiday lighting installed on your home or business? You should book with us now to avoid delays. We will be able to get you scheduled long before your neighborhood gets booked up. Contact us now to schedule.