Using Customizable Outdoor Landscape Lighting for Photographic Moments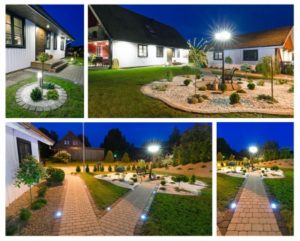 Is there a stately tree in your yard that is perfect for family photos? Or maybe you have a wide porch that accommodates your large family for holiday pictures. In any case, landscape lighting can help make such moments possible, not just once, but whenever you need them.
You don't have to have a grand manse to make customizable outdoor lighting worth the investment. Whether it's six lights or three dozen, we can install the perfect lighting in cooperation with your landscape design. We have many affordable options, but the more customizable features included, the higher the price.
Outdoor landscape lighting is a permanent lighting installation that is designed with your unique and specific lawn and garden in mind. The lighting is most often used to illuminate dark, hidden areas to deter mischievous behavior or eliminate risk of injury on a path, but it can also be used to light areas where you commonly entertain after dark.
Speaking of it getting dark earlier every day, the winter solstice, or the longest night of the year, is just three nights before Christmas Eve. That's why, during the holiday season, it seems like it gets dark far too early, but that makes having outdoor lighting even more important during this time of year. You want to make sure that all entertainment areas are well-lit to avoid injury or damage, as well as paths to and from the house. Keep in mind areas where you might want to take pictures after dark.
With social distancing lasting through the holidays, being able to entertain outdoors has become more important than ever. If you would like to make a long-term investment in your home's landscape lighting just in time to entertain outdoors for the holidays, contact us today to book your installation.