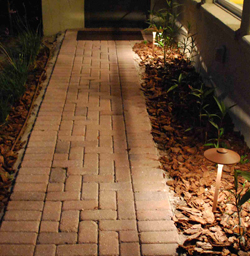 With a little specialized knowledge, you can create an outdoor lighting design that is both beautiful and handicap accessible. There are just a few key aspects of your outdoor lighting design you need to keep in mind to create that accessibility. It is important to pay attention to the glare of your lighting, how well-lit your pathways are, and how easily switches can be accessed.
Reducing Glare From Lighting
Glare causes visibility issues for those who use wheelchairs. The reason for this is that many people who install lights hanging from cabinets, coming from the ground, or hanging downwards are thinking of the visual effect for people of an average height who are standing. Many lights can, accidentally, be placed in a way that shines light directly into the eyes of someone traveling through your outdoor space in a wheelchair.
To reduce the glare coming from your outdoor lighting design, keep the various eyeline levels of people in mind when placing lights. You can position some lights at a lower level so they won't shine in anyone's eyes. Frost-tinted bulbs are another way to reduce glare and make your space more handicap accessible. Read More →