How Shadowing Can Create Dramatic Landscape Lighting Effects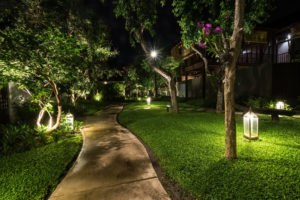 Outdoor lighting is an art form, and any artist will tell you that good art incorporates both bright and dark. That's why the experts here at Decorating Elves in Clearwater will design your landscape lighting with special attention to the effects of shadows. There are many outdoor lighting techniques that create dynamic shadow effects, but none are quite as dramatic as the technique known as shadowing.
What is Shadowing?
Shadowing involves casting the shadow of a prominent feature in your yard onto a background. The background can be large or small, but we always recommend shadowing on a larger background for maximum effect. 
Now, you may be thinking, "what's so special about casting a shadow onto a wall?" Well, that's where the art comes in! Experienced designers will not just think about the best angles for the lighting, but also about potential movement in the shadows, how to maximize the contrast between light and dark, and how to eliminate the possibility for anything to obstruct the casted shadow.
Where Can I Use Shadowing?
Shadowing can be used anywhere and is a great way to add interest to a large wall, such as on the side of a house, without actually altering the building's exterior. The only requirement is that you have an item near the wall that will cast the desired shadow. Many people use this technique to cast the shadows of trees in their yard since their natural swaying adds motion to the effect. Fountains, sculptures, and birdbaths all also make great shadows to cast.
Expert Shadowing for Your Tampa Bay Property
If you want to find out how shadowing and other techniques can elevate the look of your entire property, contact the landscape lighting professionals, Decorating Elves, at (727) 474-2628 or online to schedule your lighting consultation today! Our expert outdoor lighting designers and installers can give you the nighttime security and curb appeal just like you see in the magazines. Check out our reviews and then head over to our gallery for some Florida-style lighting inspiration.