New Year's Resolutions for Outdoor Living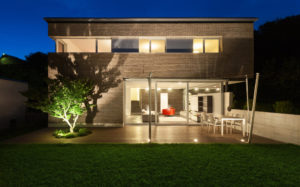 Here in Florida, we have the perfect climate for outdoor life, from playing sports on the beach to relaxing in your own backyard. Make a New Year's resolution to take control of your outdoor space with an intentional plan for improvement in 2022!
Create Comfort Outside
Your lawn may be green and lush, but unless you have somewhere to sit out there, how can you enjoy it? Make a plan for an outdoor living space that brings comfort and joy together for your family. Go simple with a covered patio and bench seating, or go all out with a screened patio enclosure complete with seating, a fire pit, and maybe even a hot tub! Think about what activities will bring more happiness to your life, and then build your outdoor space around that. Did someone say outdoor kitchen?
Lawn Maintenance
Our lawns tend to look dull and dry during the winter months, so be sure to spruce yours up as spring arrives with proper maintenance. You probably won't need to mow the lawn this early in the year, but it is a great time to get your lawnmower serviced and make sure it's running smoothly. While your lawn mower is at the shop, take an hour or two to clear away any debris left on your lawn from the winter and to do a complete inspection. Don't forget to check your irrigation system for any damage too!
Once your lawn is prepped for spring's arrival, write down exactly how you plan to maintain it throughout the year. Don't forget these most important lawn care areas:
Watering

Fertilizer

Resodding or reseeding

Weed control

Pest control
If you don't get a thrill from DIY lawn maintenance, now is the time to establish a relationship with a local lawn care company that can do it for you.
Check Lighting
If you have an outdoor lighting system, like those installed professionally by Decorating Elves in Tampa Bay, then now is the time to check it for any damages or misalignments that will require correction. Replace or repair damaged fixtures as soon as possible to ensure your outdoor lighting is providing the safest, most secure environment for you and your family. Not to mention the added curb appeal!
If you had holiday lighting installed, now is also the time to take it down and reflect on what went well with the display, and what you would like to change next year.
Happy 2022 from Decorating Elves!
We're proud to ring in another year here in beautiful Tampa Bay! For almost 20 years now, the team at Decorating Elves has added sparkle and glam to homes and businesses while doing what we can to give back to the community. We hope that you'll join us in making resolutions for 2022 that bring us health, happiness, and prosperity… and lead us to our very best outdoor life!