Benefits Of Outdoor LED Lighting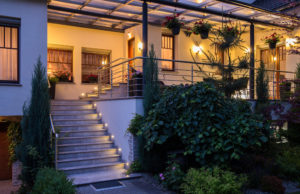 Just take a quick drive around Tampa Bay at night and you'll quickly realize the impact outdoor LED lighting can have on any property! From residential to commercial, and sometimes even industrial properties, outdoor LED lights are popping up everywhere. But, are these lights just a pretty face or something more?
Appearance
One of the biggest benefits of outdoor LED lighting is its upscale visage. With the addition of some strategically placed yard lights, you can take your home's aesthetic up a notch and become the envy of your entire neighborhood! And, you can upgrade to the pathway or entryway lights for an even more luxurious look.
Energy-efficient
One of the best benefits of using LED lights is their energy efficiency. LEDs consume much less energy than their incandescent or CFL counterparts while still producing brighter light. This conserved energy also means cooler temperatures, so you won't have to worry about your lights burning curious little fingers. If reducing your carbon footprint and lowering your electric bill are both priorities for you, then installing outdoor LED lighting should be a no-brainer.
Long lifespan
Professional landscape lighting can be expensive depending on the size of the property where you are installing, so the last thing you want to hear is that one of your outdoor lights broke or blew. With high-quality LED lights, you will get a much longer lifespan out of your outdoor display – up to 50,000 hours for some bulbs! That's 25 years of bright, beautiful light on your property, which means more cash in your pocket over the years.
Outdoor LED Lighting in Tampa Bay
Are you ready to take your landscape to the next level with attractive, energy-conserving, long-lasting outdoor LED lights? If so, Decorating Elves is here to help! We'd love to show you how we can enhance your property and even boost your business with an LED lighting display that turns heads! Call us at (727) 474-2628 or contact us online to set up a free estimate for your property today.