5 Benefits of Low-Voltage Lights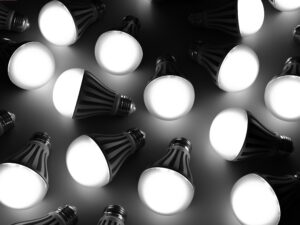 Low-voltage outdoor and landscape lights have become increasingly popular in recent years due to the numerous benefits they offer. Nick Schriver, the owner of Decorating Elves, is Tampa Bay's only Certified Low-Voltage Lighting Technician (CLVLT). This designation, given by the Association of Outdoor Lighting Professionals (AOLP), means Nick uses best practices and has access to the most current information on low-voltage outdoor lighting design and installation. Experience and knowledge are important when installing any outdoor lighting system, and the team at Decorating Elves has both!
What is low-voltage Lighting?
Low-voltage lighting uses a transformer to reduce the voltage in your electrical lines from 120 volts (standard line voltage) down to 30 volts (low-voltage). Low-voltage lights typically use between 12 and 30 volts.
If you're thinking of upgrading your outdoor lighting, or installing new outdoor or landscape lighting at your home or business, we highly recommend going with a low-voltage lighting system, professionally designed and installed by Decorating Elves. What benefits do low-voltage systems offer over their line voltage counterparts? Low-voltage outdoor lighting systems are superior because they give you all the benefits of a line voltage system, plus they offer:
1.  Safe Passage
When choosing a landscape lighting option to be installed where your children and pets play, you want the safest option possible. Because low-voltage lights operate at a lower voltage, they have a reduced risk of electrical shock or fire. This makes them a superior choice for outdoor areas like swimming pools or water features, where exposure to water and other elements can pose a risk to not just the lighting system, but also to you and your family! They are perfect for highlighting paths and walkways that might accumulate water during heavy rains and storms. Their low-voltage also makes them safer to install and maintain, since no licensed electrician is required. Low-voltage lights are cooler to the touch, making them safer to handle even after extended use. Finally, because low-voltage systems can use smaller bulb sizes, they can be used in tight and recessed areas, pathways, and stairs to provide a safe walkway for your family and guests, where line voltage system bulbs may not fit.
2. Beautification
You can't deny the subtle beauty of an expertly designed and installed low-voltage landscape lighting system. That crisp white glow enveloping your home and accenting your decor gives off opulence that can't be ignored! The aesthetic that low-voltage outdoor lighting can bring to your property isn't just a visual improvement either…it can lead to a higher property value if you ever decide to sell. 
3. Usability
Another benefit of low-voltage lights is their usability. Since they use less voltage and require a smaller filament in the bulbs, the bulbs can be made considerably smaller than traditional bulbs. This means low-voltage lights can go in those tight spaces where other lighting bulbs can't fit, like alcoves and recesses. They are available in a wide range of styles, from elegant lanterns to modern LED multicolor lights. This makes it easy to find a lighting solution that complements the design of your home and garden, or you can change your property's look to match a season or mood! Furthermore, low-voltage lights can be easily installed and moved without a licensed electrician, making it simple to change the look of your outdoor space at the drop of a hat.
4. Value
Not only are low-voltage landscape lighting systems less expensive than comparable line voltage systems, but they are also designed to use less energy. This can save homeowners money on their energy bills and also reduce their carbon footprint, making low-voltage a more environmentally friendly lighting choice as well. Low-voltage bulbs also last far beyond the expected lifespan of incandescent bulbs – some low-voltage bulbs are estimated to last up to 100,000 hours! This means a low-voltage lighting system will require fewer bulb changes than older systems. Combine the affordable initial cost, lower energy consumption, and an extended bulb lifespan, and it's easy to see why low-voltage landscape lighting is the preferred residential outdoor lighting application.
5. Security
Finally, let's talk about security lighting. Criminals love to hide in the darkness of night, out of sight and out of mind, they hope. Don't leave your home and property vulnerable to nefarious activities by leaving it unlit all night. Instead, keep it illuminated with a customized low-voltage outdoor lighting system designed with aesthetics and security in mind. Since low-voltage lights aren't as bright as line voltage lights, they are perfect for lighting up a home's exterior for security. We also like to use motion detectors with certain lights to surprise and deter trespassing, such as walkway lights, floodlights, and entryway lights.
Low-voltage Outdoor Lighting in Tampa Bay
Want all the benefits of a traditional line voltage outdoor lighting system, plus elegance, safety, versatility, and security…all at a great value? Then a low-voltage outdoor lighting system is the answer! For the best outdoor lighting installation team in Tampa Bay, Decorating Elves is the best choice. Call us at 727-474-2628 or contact us online to schedule an estimate on a low-voltage outdoor landscape lighting system for your home today!