Unique Pathway Lighting Designs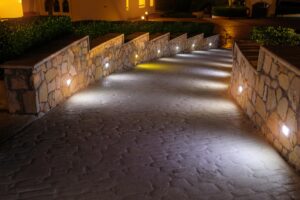 We don't know what it is, but there's just something timelessly classic about a well-lit pathway. Whether it's going to an entryway or navigating through outdoor landscaping features, pathway lighting can be just as versatile and beautiful as it is functional. In this post, we'll discuss some of our favorite unique pathway lighting design ideas. Hopefully, you'll be able to incorporate some of these ideas into your upcoming landscape lighting project. When you're ready to get started, trust no other than the outdoor lighting professionals at decorating elves here in Tampa Bay.
Motion Activated
Add surprise and intrigue to your pathway lighting by opting for a style with motion activation. Motion-activated lighting saves energy by only turning on when you need them and staying off when no one is there. Plus, there's always something a little whimsical about a path that lights up as you walk.
Well Lights
For the ultimate in minimalism, check out well pathway lights. These beauties are embedded down into the ground and give off a gorgeous under-lit glow. When turned off, it's like they're not even there!
Geometric Designs
Many pathway lighting styles now come in decorative coverings that cast beautiful shadows and designs on your pathways while lit. These designs can be matched to the house to give a cohesive and well-planned look. Cage lighting is a style that gives off interesting light and shadow designs.
Color Changing
If you're into decorating for the holidays, you've got to consider color-changing pathway lights. These lights can coordinate with whatever theme you're decorating for, from Halloween to Christmas, or maybe just celebrating a win by your favorite sports team!
Bollard Lights
If you're going for a sleek modern look, the Bollard light is a good choice. These raised cylinders lining your pathways feature a clean, new-age profile that complements even the most state-of-the-art properties.
Light Strips
If you want it to seem like your pathway lighting is part of the pathway itself, LED light strips are a great choice. These come in weatherproof and color-changing varieties and can be a great alternative to the standalone pathway light.
Beautiful Pathway Lighting Design in Tampa Bay
Are you ready to boost the appearance, functionality, and safety of your property's pathways? Then make the call to Decorating Elves, Tampa Bay's premier outdoor lighting contractor, at 727-474-2628 or contact us online. We would love to schedule a free estimate for your pathway lighting project today!