Light Up Your Yard for Halloween with Professional Lighting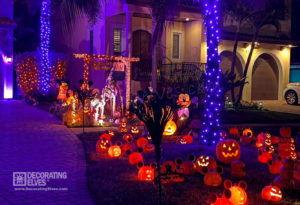 Halloween is a spooky time of year, and your yard should reflect that! Professional lighting can help you create the perfect Halloween atmosphere, and Decorating Elves has the team, skills, and knowledge to turn your home into the scariest on the block. From witches to werewolves to skeletons and more, Decorating Elves can give you any Halloween theme you'd like!
Monster Balls
What Halloween party would be complete without proper lighting to set a frightening mood? If you love to throw big Halloween bashes, you know how important it is to keep your outdoor entertaining areas well-lit for partygoers. We can match your outdoor atmosphere with your party theme, creating an experience that will keep them coming back year after year. Plus, if Halloween games are your style (bobbing for apples, anyone?), then we can help light up those areas for safe and fun gameplay.
Trick-or-Treaters
While us adults definitely have fun around Halloween, let's be honest…it's about the kids! All those adorable costumes and excited faces looking up at you while yelling "Trick or Treat!"…what could be better? So don't disappoint this year by just giving the kids candy…give them a Halloween moment they'll never forget! Our motion-activated decorations and lights will send the kids screaming in delight. Plus, our pathway and entryway lighting will keep everyone safe during the fun.
Professional Halloween Lighting in Tampa Bay
Hiring a professional lighting company is the best way to ensure that your Halloween lighting is installed correctly and safely. A reputable company like Decorating Elves will have the expertise needed to create a Halloween lighting display that is both creative and safe. Check out some of our previous work, then call us at 727-474-2628 or contact us online to get started on all your holiday decorating ideas, from Halloween to Christmas to New Year's and more!