The Advantages Of Hiring Pros For All Your Holiday Lighting Needs
The festive season is a time of joy, celebration, and, of course, dazzling lights. While many homeowners are tempted to take on the task of holiday lighting themselves, there are numerous advantages to entrusting this job to professionals.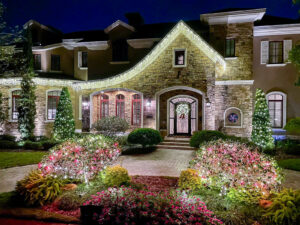 Here's why you should consider hiring experts for your holiday lighting needs:
Safety First
Climbing ladders, dealing with electrical connections, and navigating rooftops can be hazardous. Professionals have the necessary equipment and training to ensure that the installation process is safe for everyone involved.
High-Quality Results
Expert lighting designers possess the skills and experience to create a mesmerizing display that will be the talk of the neighborhood. They understand the nuances of design, ensuring that your property shines in the best possible light.
Time-Saving
The festive season is busy enough without the added stress of installing lights. By hiring professionals, you can focus on enjoying the holidays with your loved ones while the experts handle the hard work.
Customized Designs
Every property is unique, and so should be its lighting display. Professionals can tailor the design to suit your home's architecture and your personal preferences, ensuring a one-of-a-kind display.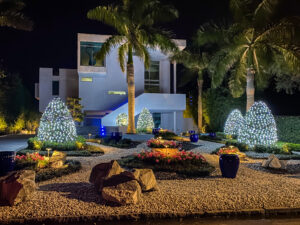 Maintenance and Troubleshooting
Lights can sometimes malfunction or face issues. When you hire professionals, they often provide maintenance services, ensuring that your lights remain in perfect condition throughout the season.
Easy Take-Down
Once the festive season is over, the task of removing the lights can be just as daunting as putting them up. Professionals will handle the take-down process, ensuring that it's done efficiently and without damage to your property.
Eco-Friendly Options
Many professional lighting companies, like Decorating Elves, are conscious of the environment and offer eco-friendly lighting options like LEDs and cold-voltage systems. This not only reduces your carbon footprint but can also lead to energy savings.
Decorating Elves Lights Up Tampa Bay for the Holidays!
While DIY holiday lighting might seem like a fun project, the benefits of hiring professionals far outweigh the challenges of do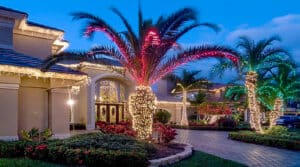 ing it yourself. With their expertise, you can ensure a safe, stunning, and stress-free festive season. If you're in the Tampa Bay, Florida area and are considering outdoor landscape lighting, holiday lighting, or outdoor audio systems, Decorating Elves is here to help. Contact us at 727-474-2628 or online to schedule an outdoor lighting or audio consultation. Let Decorating Elves bring a touch of magic to your residential or commercial property this holiday season!