Unique Needs of Commercial Outdoor Lighting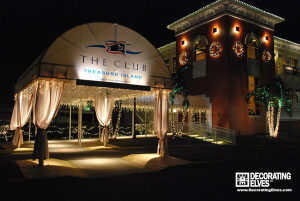 Outdoor lighting takes on a new meaning for commercial buildings. It is important that you choose a lighting contractor that is familiar with the unique needs of commercial outdoor lighting. There are several factors to consider when you are designing the outdoor lighting for your commercial applications.
Security
Commercial building owners and leasers are generally much more worried about security than the average homeowner. You want to make sure that your outdoor lighting scheme complements your other security measures, such as security camera placement. Lighting should also be bright enough to be discouraging, but not so bright that it interferes with the camera's operation.
Protection from Lawsuits
If your establishment is open after hours, it is important that your outdoor lighting design takes your patrons' safety into consideration. If you do not provide adequate lighting for your customers or clients and a preventable accident happens as a result, your company could be held liable for their injuries leading to personal injury lawsuit cases.
Employee Safety
You may have employees that enter and exit your building after dark. Your outdoor lighting should ensure their safety in more than one way. Walkways should be well lit so that you do not have to worry about trip and fall accidents. Doorways and corners should also be well lit so that employees can enter and exit the building without fear of molestation.
If you have a commercial building and you are interested in new, more effective outdoor lighting, contact us today for more information or to schedule an appointment to discuss your lighting needs and desires. We can develop the perfect lighting design for your commercial building that will be aesthetically pleasing, offer security, and offer safety for your company, your employees, and your customers. Contact us today to get started.