Backyard Retreats and Outdoor Lighting for Fall Nights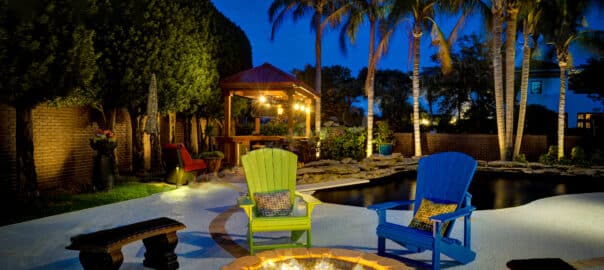 Fall in Tampa Bay, FL, might not bring the crisp chill of northern states, but that doesn't mean we can't have a cozy backyard retreat. With slightly cooler temperatures and fewer bugs to contend with, autumn evenings are the perfect time to transform your backyard into the perfect entertaining area. And what better way to do that than with fire pits and outdoor lighting?
At Decorating Elves, we've got you covered for all your outdoor lighting needs. From illuminating your pathways to creating a warm ambiance around your fire pit, we know how to make your outdoor space shine. Let's dive into the magic of glowing backyard retreats for those fall nights in Tampa Bay.
The Allure of Fire Pits
There's something mesmerizing about the dance of flames in a fire pit. Not only do they provide warmth, but they also create a focal point for gatherings. Imagine sitting around the fire with friends and family, toasting marshmallows, and sharing stories. In Tampa Bay, where it's warm most of the year, fall is the perfect time to enjoy this outdoor feature without feeling like you're melting.
The Magic of Outdoor Lighting
As the sun sets earlier in the fall, outdoor lighting becomes essential for creating a cozy atmosphere. Whether you're entertaining guests or simply enjoying a peaceful evening alone, well-placed outdoor lighting can work wonders.
Here are some ways Decorating Elves can enhance your backyard with outdoor lighting:
1. Pathway Lighting: Illuminate your walkways and garden paths with soft, inviting lights. It not only adds a touch of elegance but also improves safety.
2. Accent Lighting: Highlight your landscaping features like trees, shrubs, or sculptures with strategically placed lights. It creates a dramatic effect and adds depth to your outdoor space.
3. Deck and Patio Lighting: Extend your outdoor gatherings well into the night with well-placed deck and patio lighting. It's the perfect setting for al fresco dining or simply unwinding after a long day.
4. Fire Pit Illumination: Make your fire pit the star of the show with subtle lighting around its perimeter. It enhances both safety and the overall ambiance.
5. Moonlighting: Create a romantic, moonlit effect with carefully positioned tree-mounted lights. It's like having your own piece of the night sky.
With our expertise in outdoor lighting, Decorating Elves can transform your backyard into a magical retreat that's perfect for those cozy fall nights in Tampa Bay.
Why Choose Decorating Elves?
At Decorating Elves, we understand the unique needs of outdoor lighting and design in Florida. We know how to work with the local flora, fauna, and weather conditions to create a beautiful and functional outdoor space that you'll love year-round.
Our team of experts is dedicated to providing top-notch service and ensuring that your backyard retreat is not only cozy but also safe and sustainable. We take pride in our attention to detail and commitment to customer satisfaction.
So, if you're looking to turn your backyard into a glowing retreat this fall, trust Decorating Elves for all your outdoor lighting needs. Visit our website or give us a call to get started on your journey to a more magical outdoor space.
In Tampa Bay, fall nights are a special time to cherish. With the warmth of a fire pit and the enchantment of outdoor lighting, you can create memories that will last a lifetime. Contact Decorating Elves today and let's make your backyard dreams come true. 🌟🔥