Festive Outdoor Christmas Light Ideas for Your Yard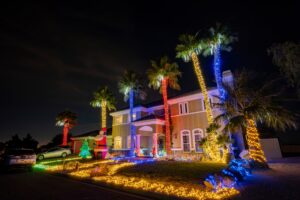 Christmas is so close you can almost hear Santa's sleigh bells jingling, so it's crunch time on getting those outdoor holiday lights up. Here at Decorating Elves, Christmas lighting is where we got our start, so we're always excited to get started stringing those icicle lights. In this post, we've got some serious Christmas lighting inspiration to get you in the holiday spirit!
Palm Tree Glow Up
We love our palm trees here in Florida! They serve as tropical focal points during warmer months, so keep that momentum going during the winter by jazzing them up with beautiful Christmas lights. We can go for any color scheme you choose to match your other decor. Many customers like for the lighting colors to mimic the natural colors of the palms, with the trunk wrapped in yellow lighting and the tops in green. No matter what colors you go with, lighting up your palm trees is a guaranteed way to make your house stand out while also adding a festive atmosphere to your outdoor entertaining spaces.
Classic White
Having a white Christmas might be a fantasy here in sunny Florida, but that doesn't mean you can't project those snowy vibes by covering your yard in twinkling white LED lights. From entryways to sidewalks to patios to landscaping, we'll blanket your home's exterior in delicate and classy white lighting. White lights immediately elevate your property's look and stir up some serious Christmas nostalgia.
Go Big or Go Home
Cute little details are great, but if you really want to make a statement, it's time to think bigger. Design traditional Christmas objects, like trees, wreaths, gift boxes, sleighs, and reindeer, in outdoor LED lighting in gigantic proportions. For larger and more elaborate homes, these oversized lighting decorations will look more proportional and add fun moments to your landscaping.
Professional Christmas Light Installation in Tampa Bay
Ready to turn your yard into a Christmas wonderland? Use the professional holiday lighting installers at Decorating Elves to give life to your Christmas lighting ideas. Our jaw-dropping Christmas lighting displays are known as the best in Tampa Bay and have even been recognized nationwide. Call us at 727-474-2628 or contact us online to schedule your Christmas lighting consultation today!