Haunted Halloween Lights and Decor with Decorating Elves
As the crisp autumn air settles in and leaves rustle underfoot, Decorating Elves welcomes you to immerse yourself in the magical realm of Halloween. Our latest blog post invites you on a spellbinding journey through our enchanting displays, where Halloween lights twinkle, family-friendly decorations delight, and spooky haunts await at every turn. So grab your favorite fall beverage and prepare to be captivated by the artistry and creativity that define this Halloween season.
A Glimpse of Halloween Magic
As twilight descends, our gardens transform into a wonderland of lights. Jack-o'-lanterns cast a warm, inviting glow, guiding visitors along winding paths adorned with intricate pumpkin carvings. Each flickering candle inside these grinning pumpkins seems to whisper tales of Halloween's past, setting the stage for the magical experiences that await.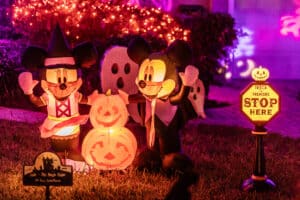 Amidst the enchantment, families gather to explore our family-friendly decorations. From friendly ghosts to smiling scarecrows, our displays evoke a sense of wonder in visitors of all ages. Children giggle with delight as they encounter playful Halloween characters, their eyes wide with amazement at the whimsical scenes that surround them.
The Spooky Delights Await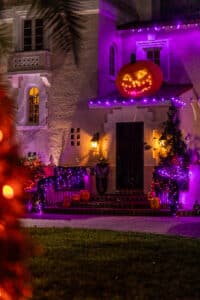 But Halloween wouldn't be complete without a touch of spine-tingling excitement. Venture further, and you'll encounter our spooky haunts. Eerie shadows dance across the lawn, and the rustle of leaves takes on a ghostly tune. Brave souls can navigate a haunted maze, where surprises lurk around every corner, and the thrill of the unknown adds an extra layer of excitement to the night.
Embracing the Thrill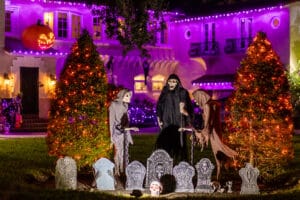 For those seeking an adrenaline rush amidst the enchantment, our Halloween wonderland offers an exhilarating experience in the form of our scarier decorations. Venture into the Haunted Hollow, where sinister whispers float through the air. Gnarled branches reach out like skeletal fingers, casting eerie silhouettes on the path ahead. Every step is a heartbeat, every rustle a gasp, as you encounter spine-chilling surprises designed to test your bravery.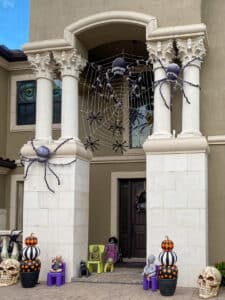 In this corner of our Halloween realm, the line between fear and excitement blurs, creating an unforgettable experience for thrill-seekers. The atmosphere crackles with an electric energy, sending shivers down your spine as you encounter ghastly apparitions and unsettling sights. It's a test of courage, a dance with the macabre, and an opportunity to embrace the thrill of the unknown.
Make sure your home is properly haunted for the season! Call us today at 727.474.2628 or email office@decoratingelves.com. It's not too late!
Thank you for being a part of our Halloween story,
The Decorating Elves Team